Intercontinental-Travel-Fountain-Refreshment-Center
2015,
styrofoam, flex tile adhesive, sand, pigments, spray paint, Japanese maple acer palmatum "Jerre Schwartz", earth,
water, ultrasonic fogger, circulation pump, PVC, epoxy resin, silicone, LED,
dimensions approx. 75 x 70 x 225 cm
Installation views ENTER the real World @ Kleine Humboldt Galerie, Berli
Intercontinental-Travel-Fountain-Refreshment-Center is an approximately 2 m high, water-promoting fountain with a matt, violet-brown exterior and a small natural plant at its tip. The surface of the sculpture is roughened, uneven, full of notches and bulges. Its materiality is difficult to grasp visually. It is impossible to tell whether it is cast, sprayed plastic or machined stone. Fountain is almost square in shape. A narrower, rock-like block rests on the lower, rectangular spiral shape that occupies about two thirds. Water flows continuously out of a small cave in this upper rock. It runs down through the basins of the spiral and is transported up again through the interior of the sculpture. A fine mist flows over the watercourse, a subdued, coloured light emerges from the cave.
At first glance, Fountain gives the impression that it comes from the garden centre of a DIY store and is an industrially manufactured product. But in this installative, spatial work, sculpture and painting, technical craftsmanship and nature unite in a unique way. In an elaborate process, the basic building block of the work was cut from polystyrene and shaped with a mixture of tile adhesive and sand until the now rough, stone-like surface appears. The stone appearance of the resulting sculpture is further enhanced by the use of pigments applied in a painterly process and fixed with spray paint. Fountain is equipped with a complex pump system hidden inside - developed by Aniol and carefully sealed with epoxy resin and silicone. The water evaporates, amplified by the fog generating machine, and must always remain in motion and equilibrium. The small Japanese maple tree at the top of the fountain also needs careful care and balanced lighting conditions. In the windowless white cube, the acer palmatum Jerre Schwartz - which at first glance has certain similarities with a marijuana plant - would not survive.
Aniol's Intercontinental-Travel-Fountain-Refreshment-Center is part of a larger project on which the artist has been working for some time and which will be implemented in the coming years. It is the second object for the design of an Occiriental Lounge. This lounge is to be installed at transitoriums, airports or train stations, in order to receive arrivals, departures and transits of the most diverse cultures and to accommodate them for a short period of time. Western and eastern culture, occidental and oriental influences merge within the lounge in several objects. It includes furniture such as seating and carpets, but also a library, sculptures, aquariums and showcases. In addition, there are pictures and screens that bring cultures together. Although the objects of this Occiriental Lounge are works of art, their installation in the semi-public space of transitory locations is intended to remove them from the usual exhibition context and to place them in an extraordinary functional context. They are then equally objects of use, objects of art and means of intercultural understanding.
Within the framework of ENTER the Real World, the exhibition object of Intercontinental-Travel-Fountain-Refreshment-Center takes on various roles. On the one hand, Fountain is a self-standing, site-specific artistic work. On the other hand, its function as a utility object refers to the curatorial concept of the exhibition. On the opening day, Fountain appears as an ironic comment on the vernissage event - the water splashes cheerfully, barely audible in the babble of voices; fine fog flows unperturbed. From the small cave, alternating red and blue light flashes, illuminating the faces of the passers-by.
Text: Rahel Schrohe (from Enter the Real World, exhibition catalogue, published by Kleine Humboldt Galerie, Berlin)
http://www.kleinehumboldtgalerie.de/files/enter-the-real-world.pdf
https://kubaparis.com/enter-the-real-world-kleinehumboldtgalerie/
* deutsche Version unten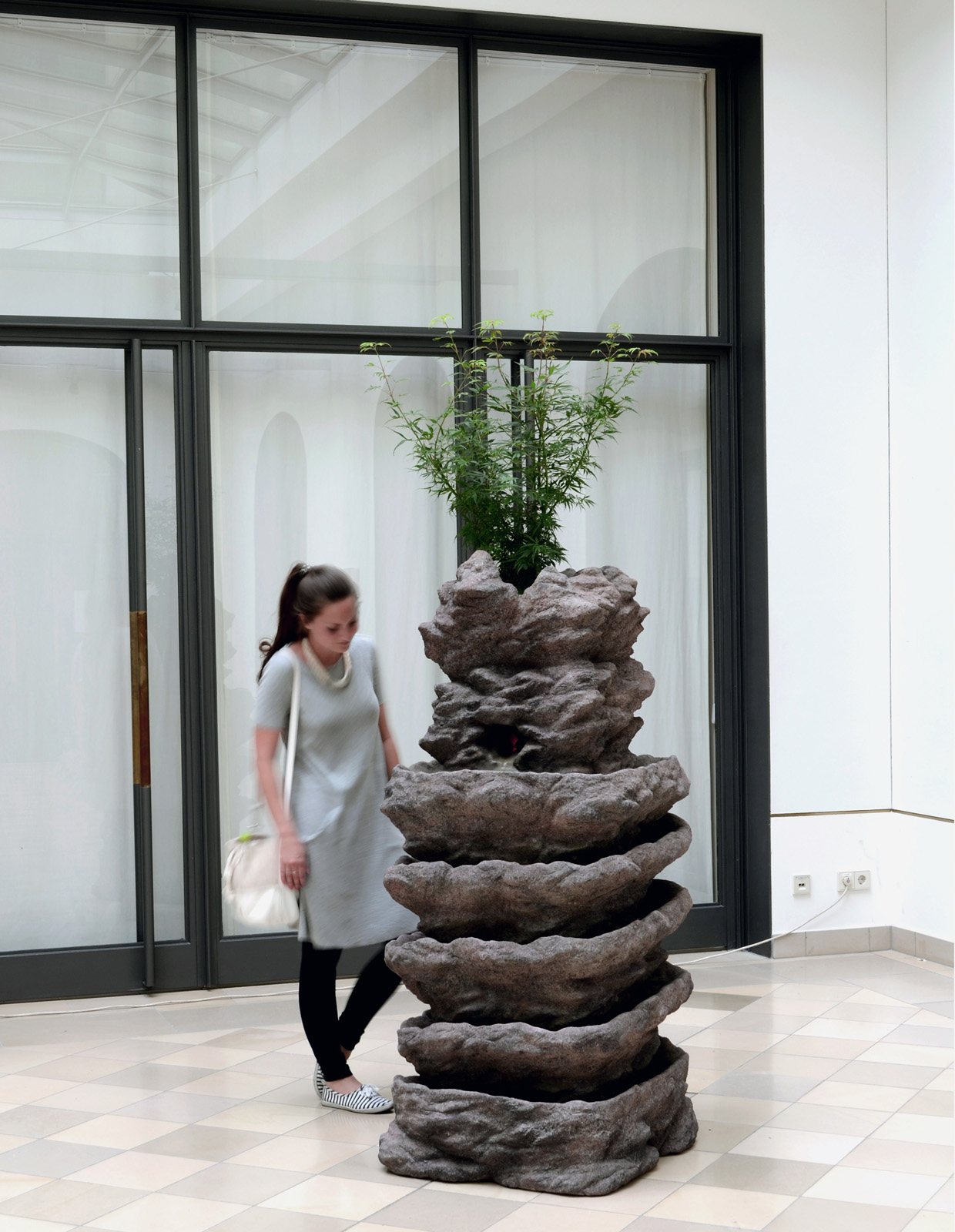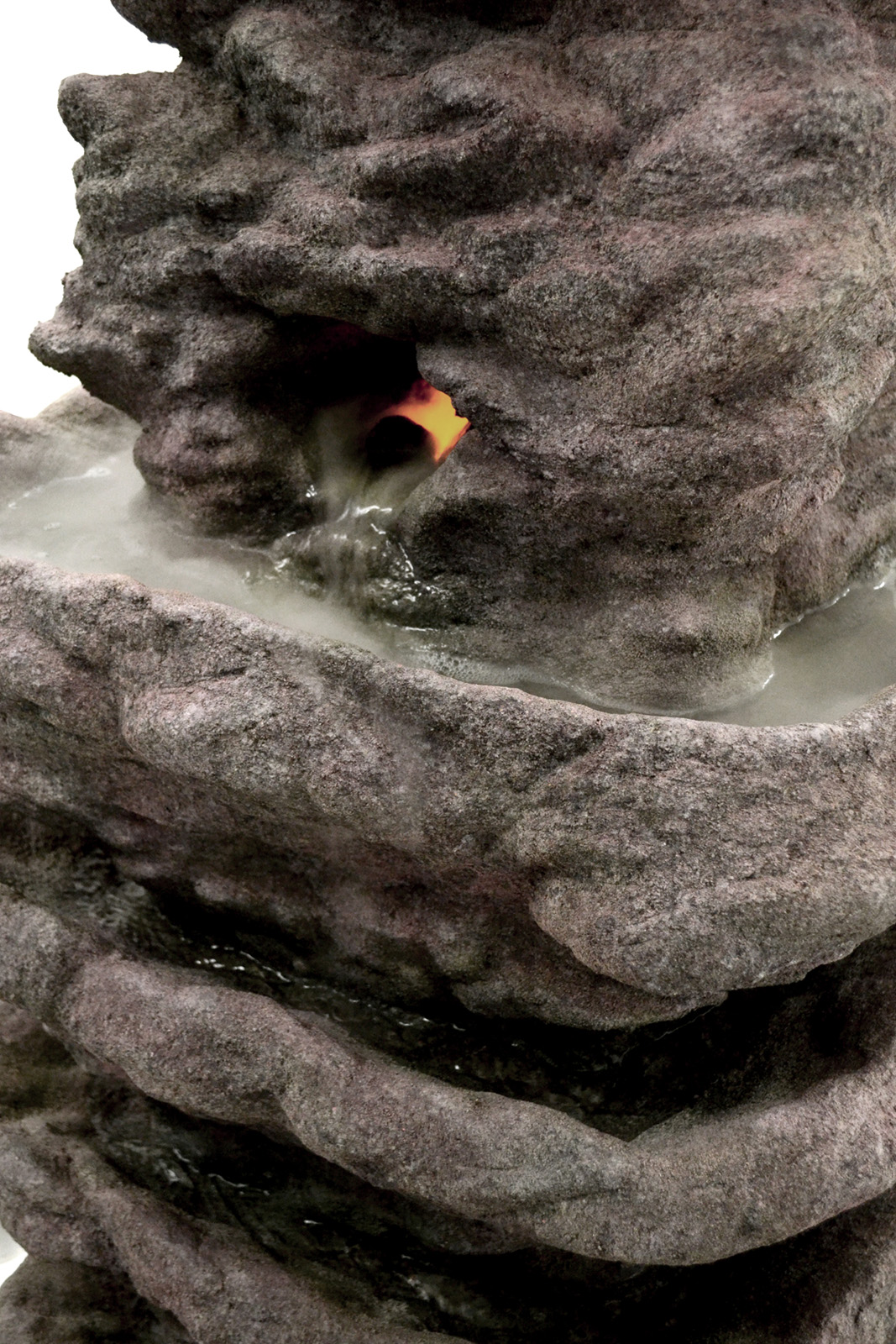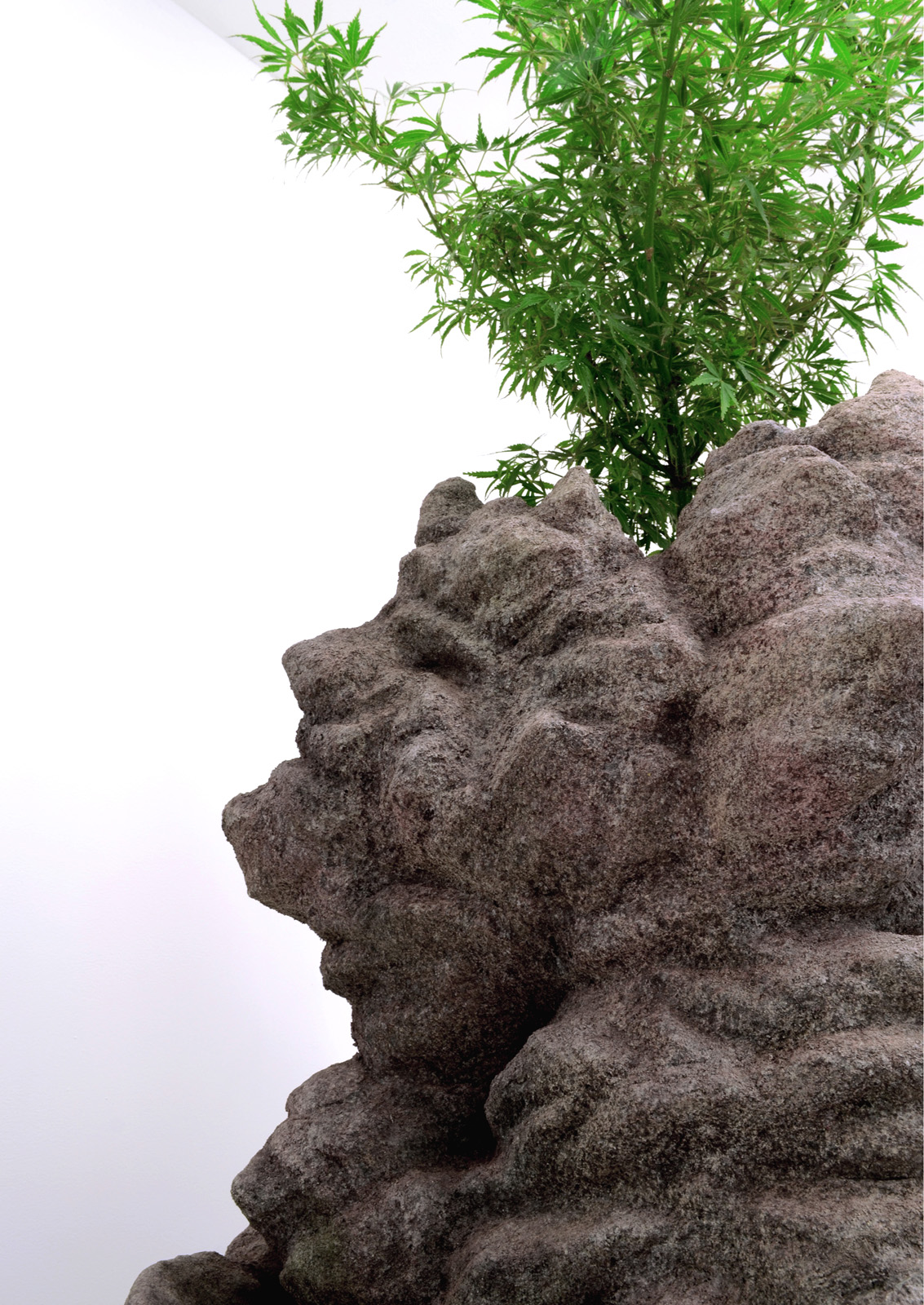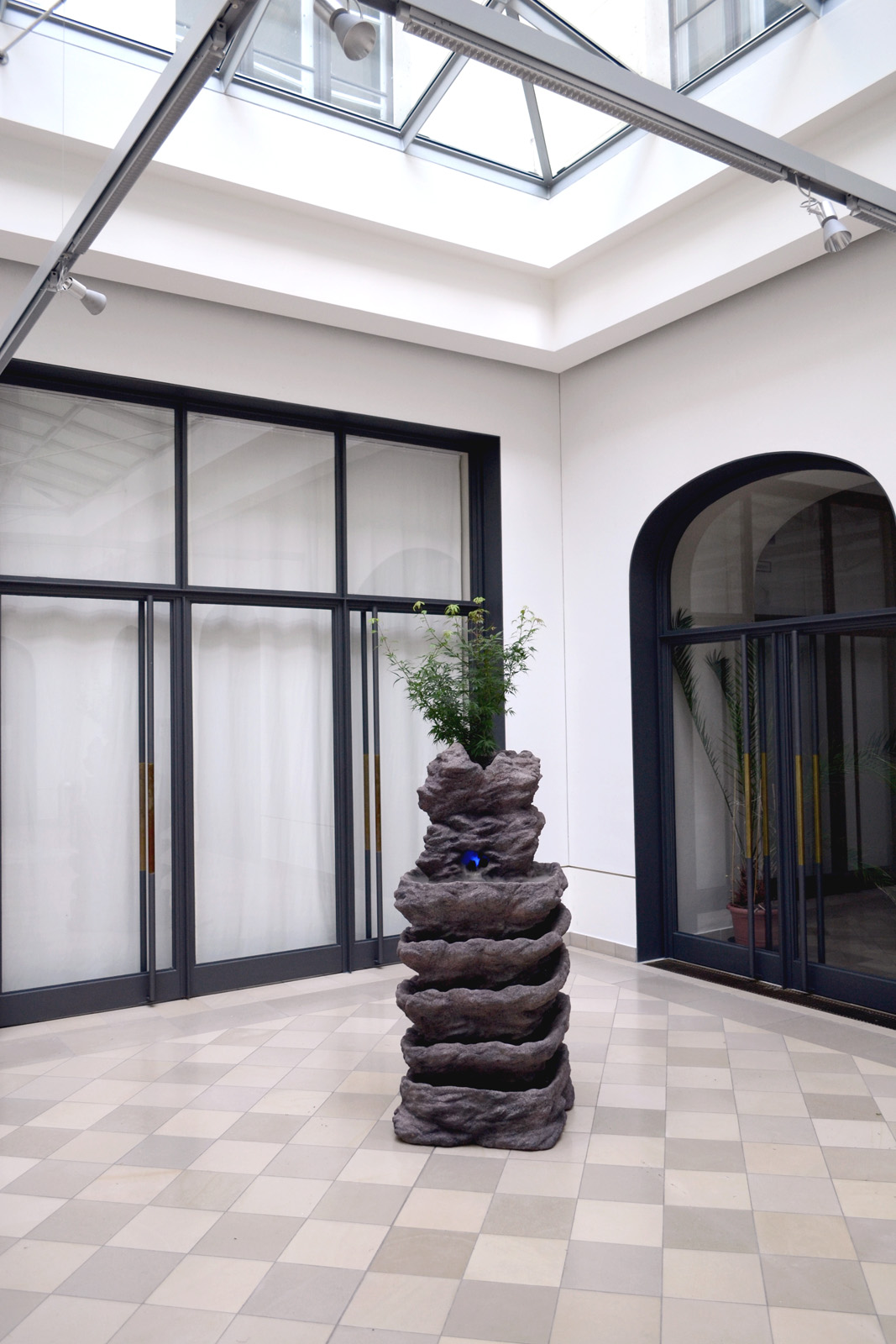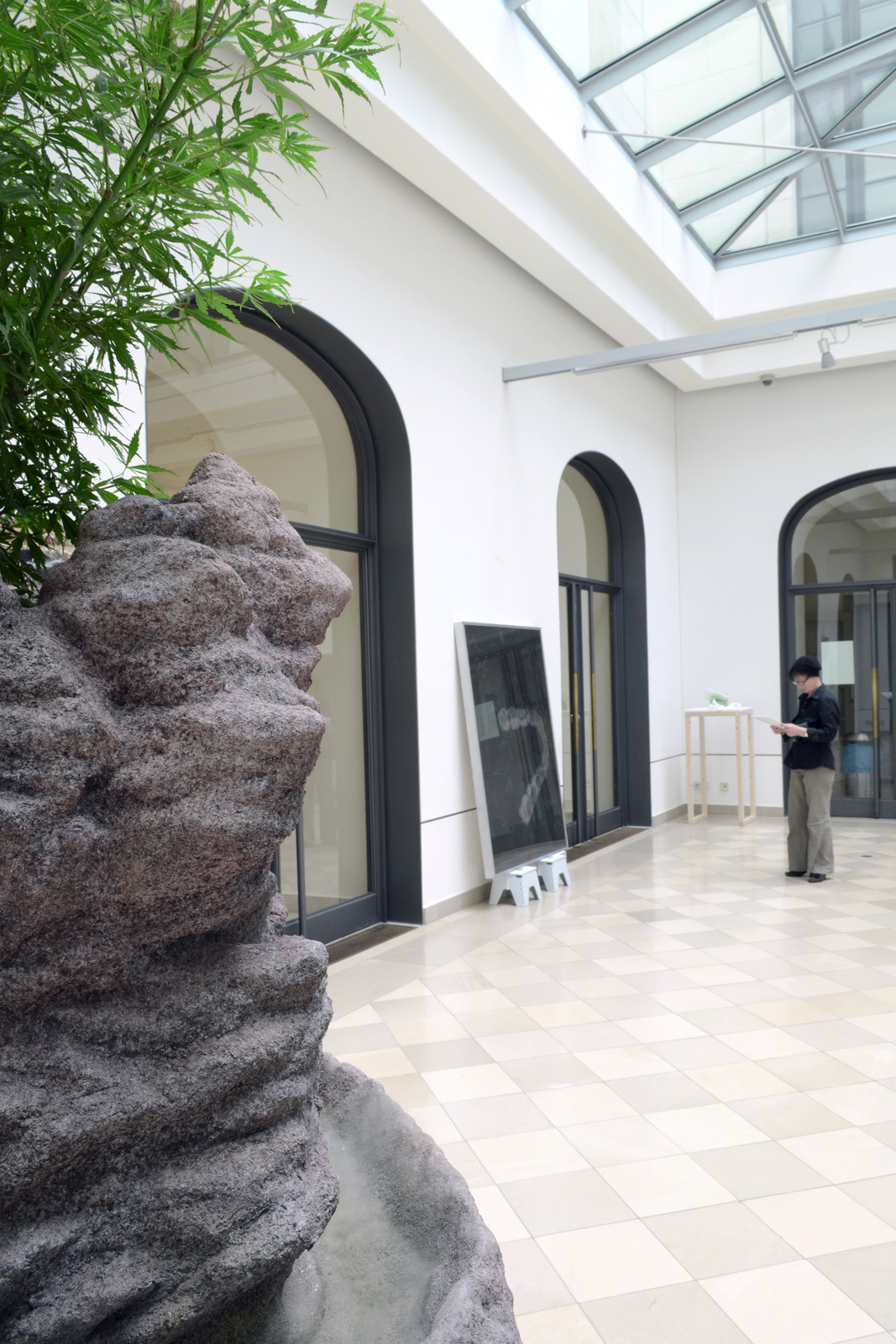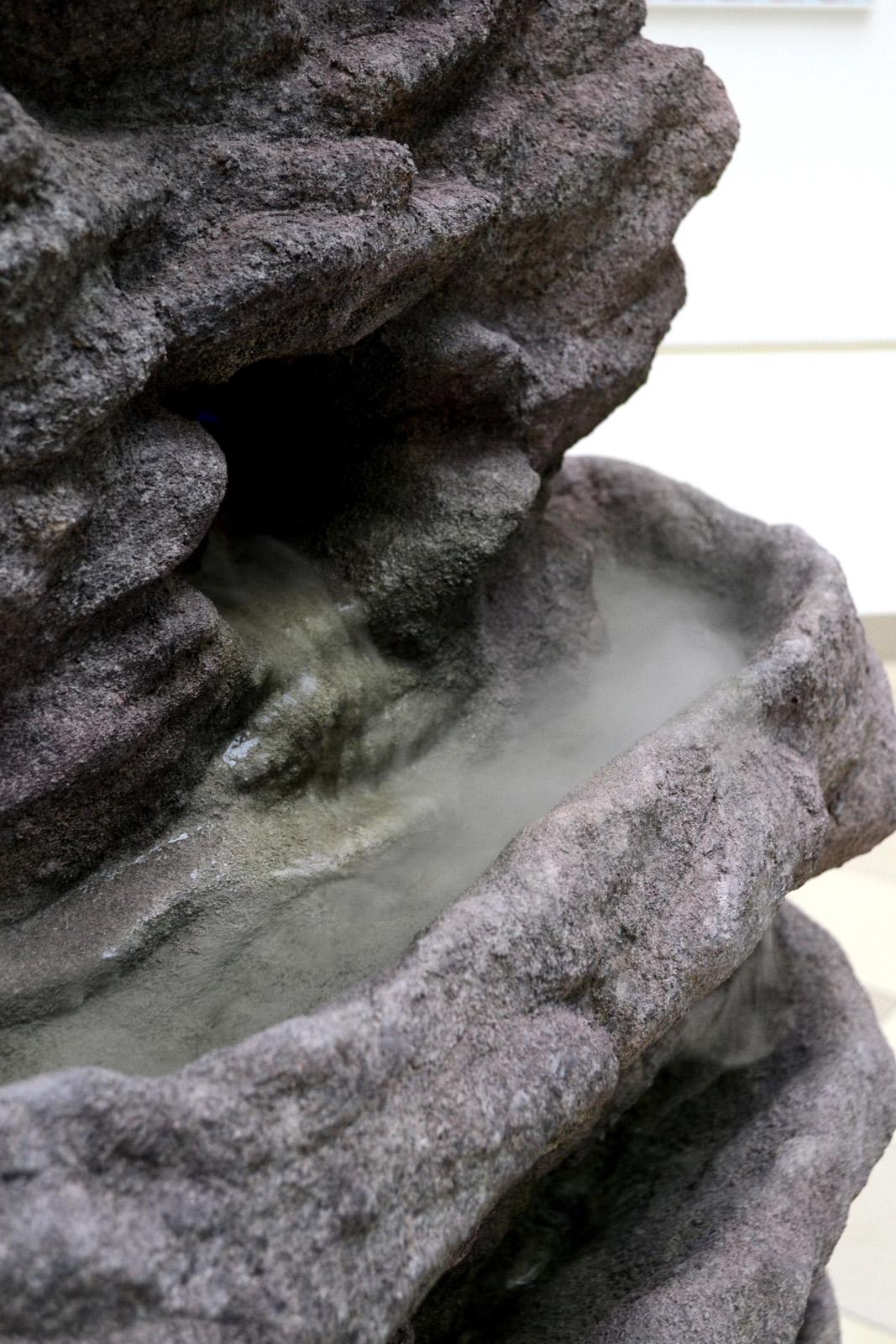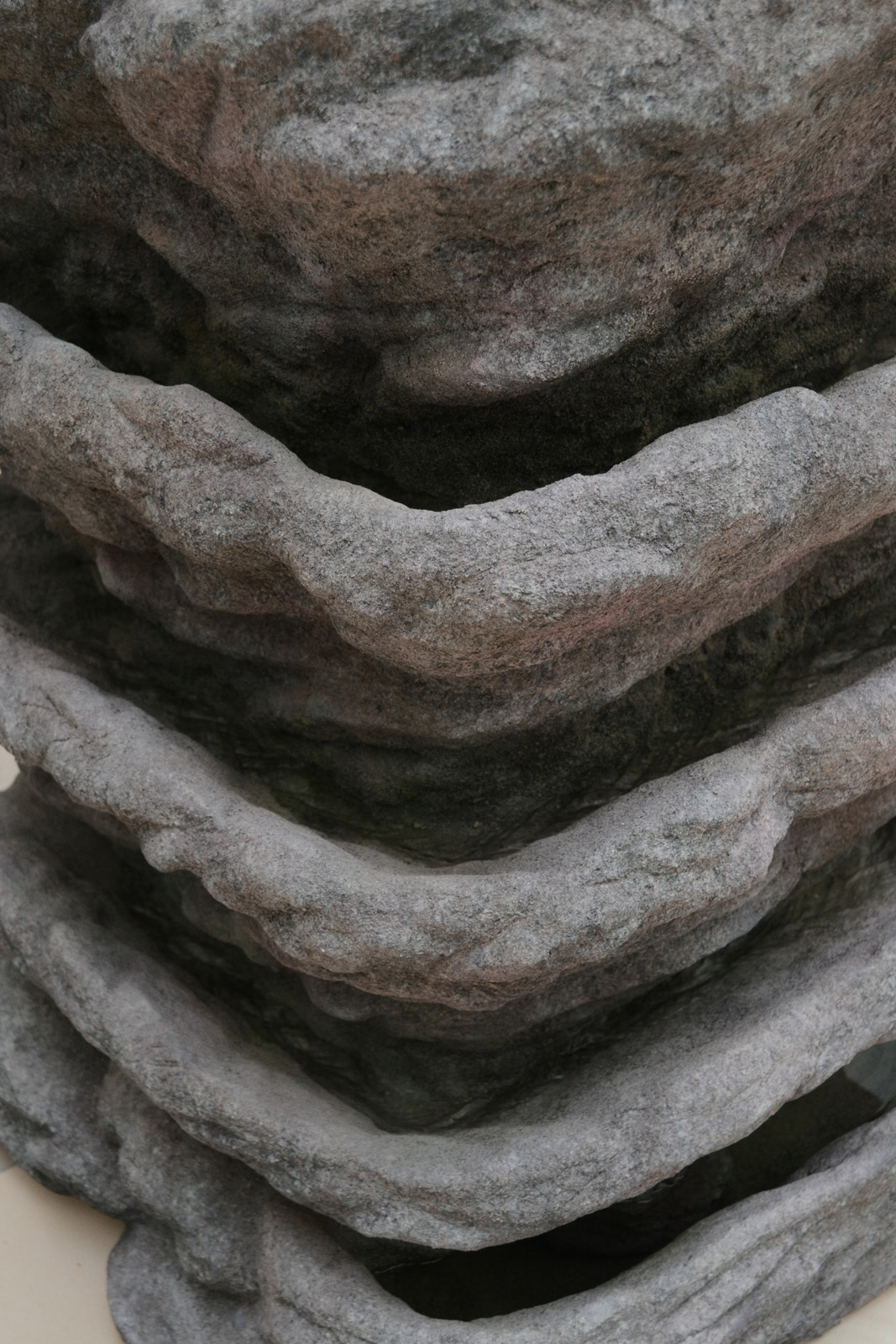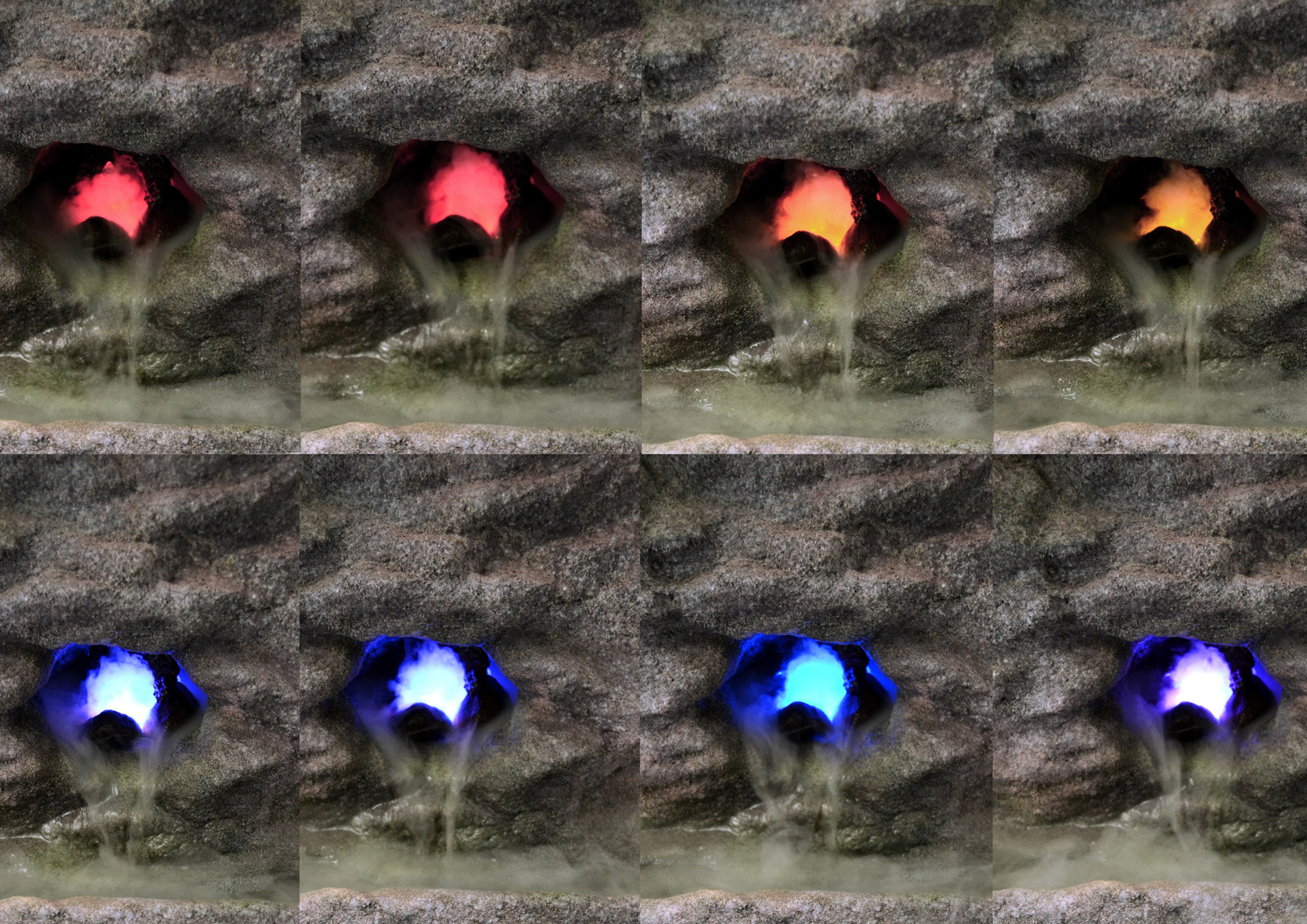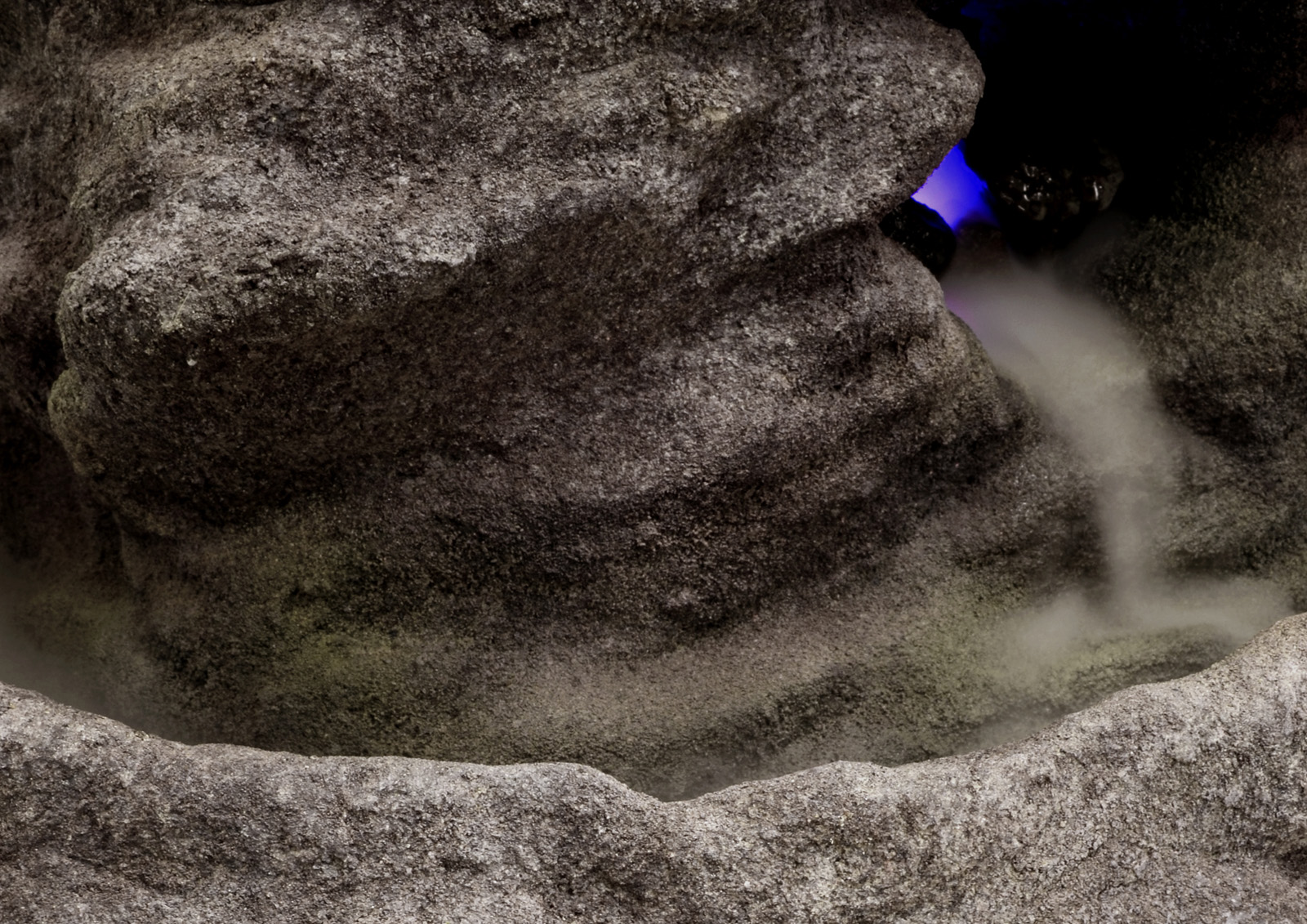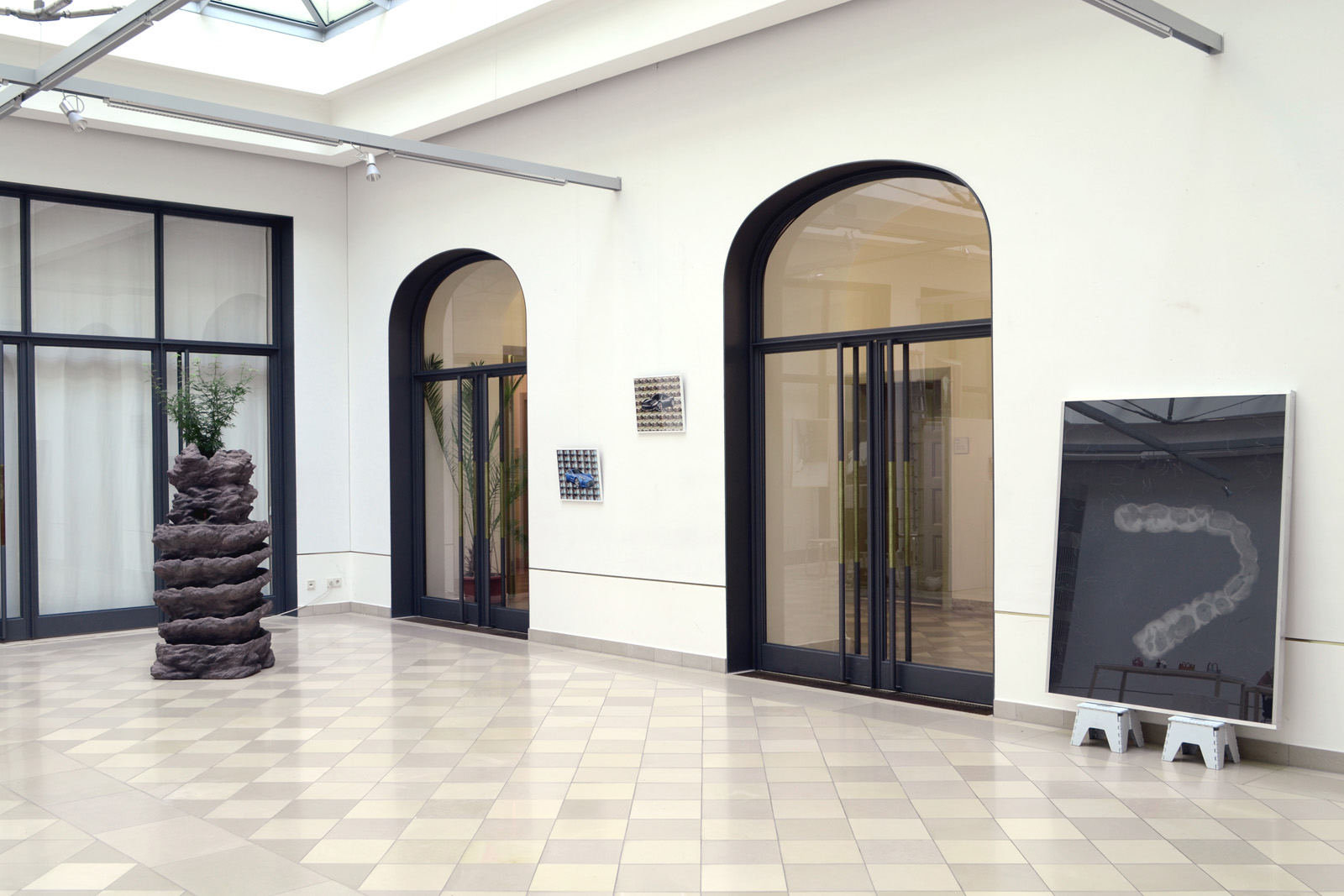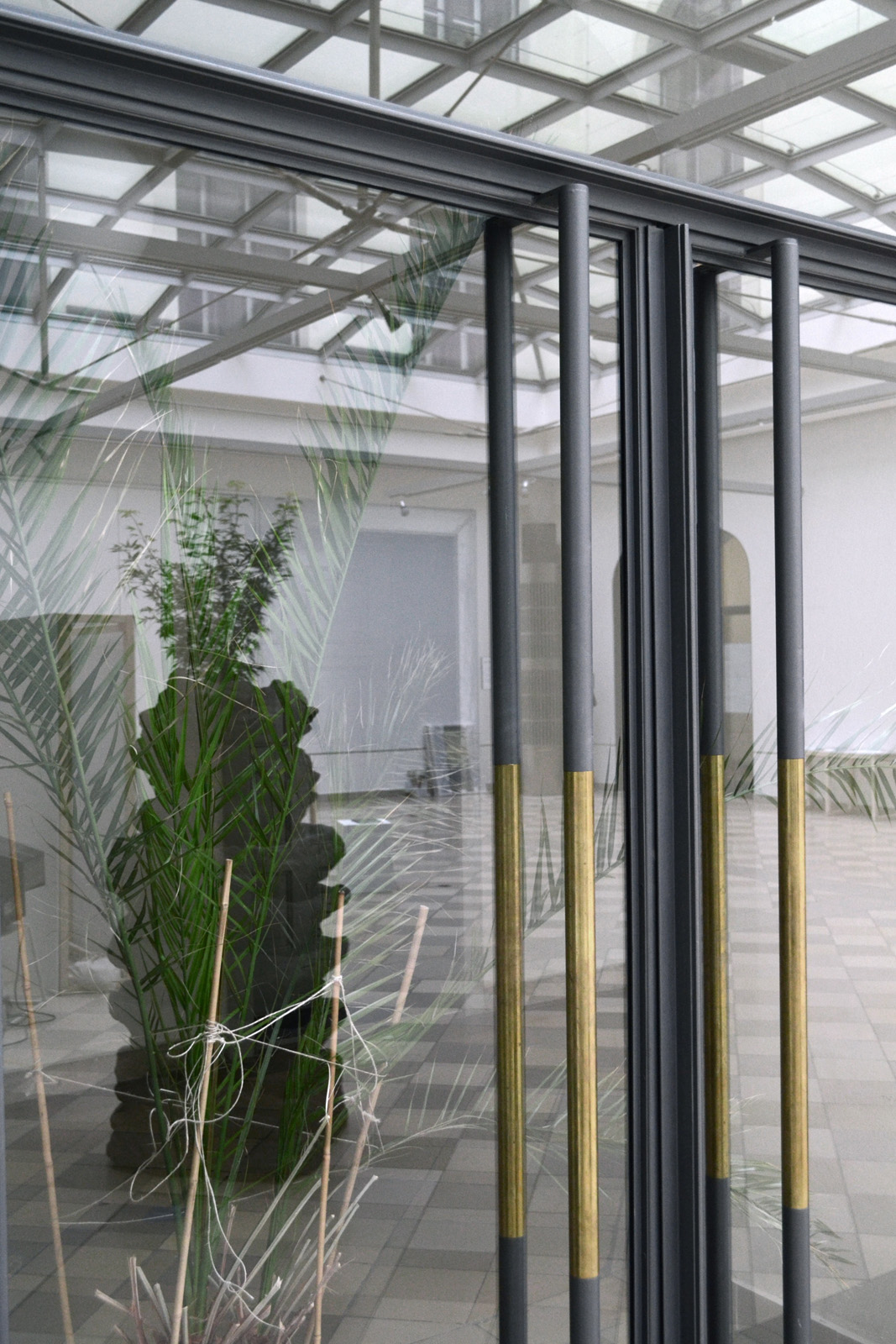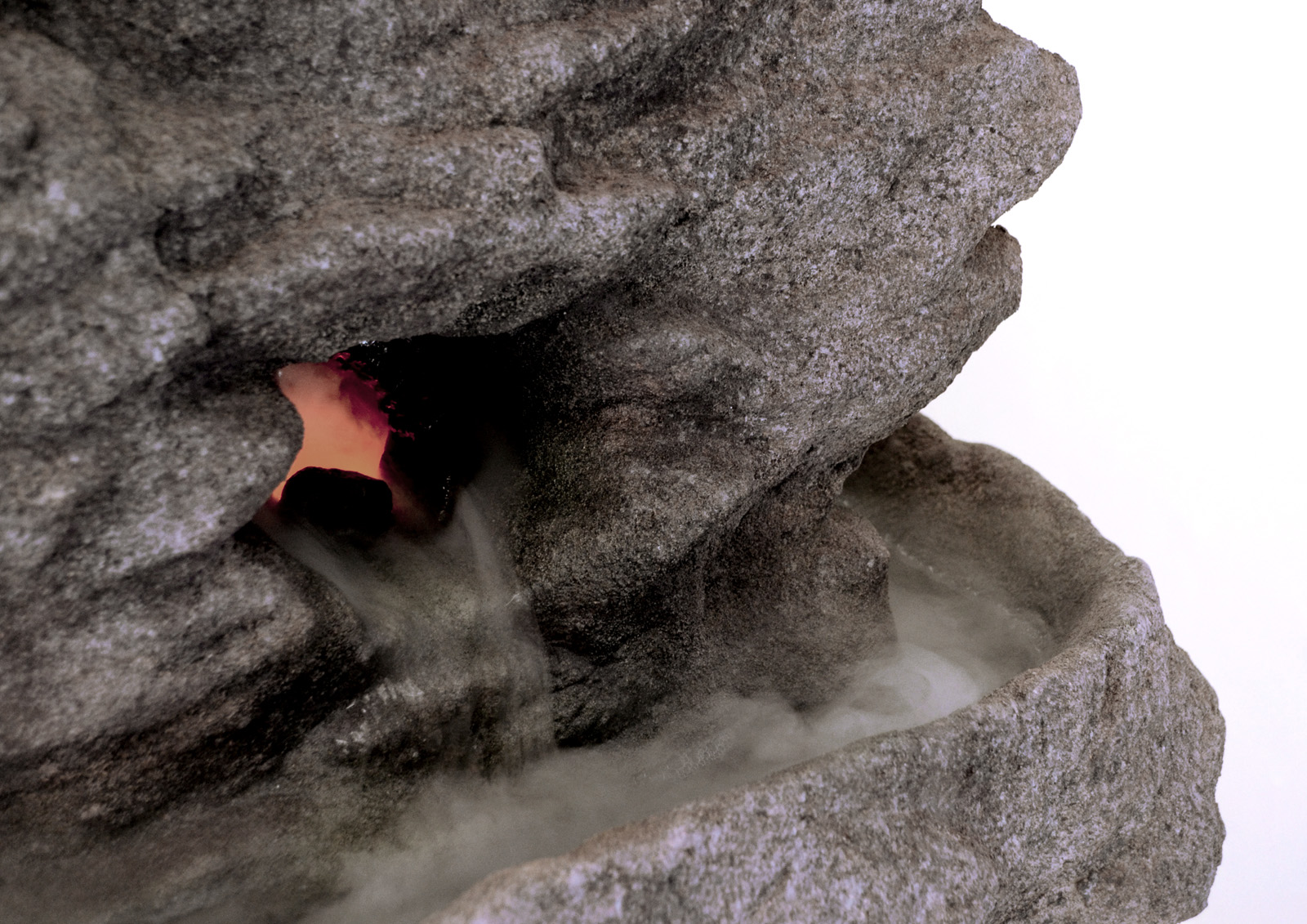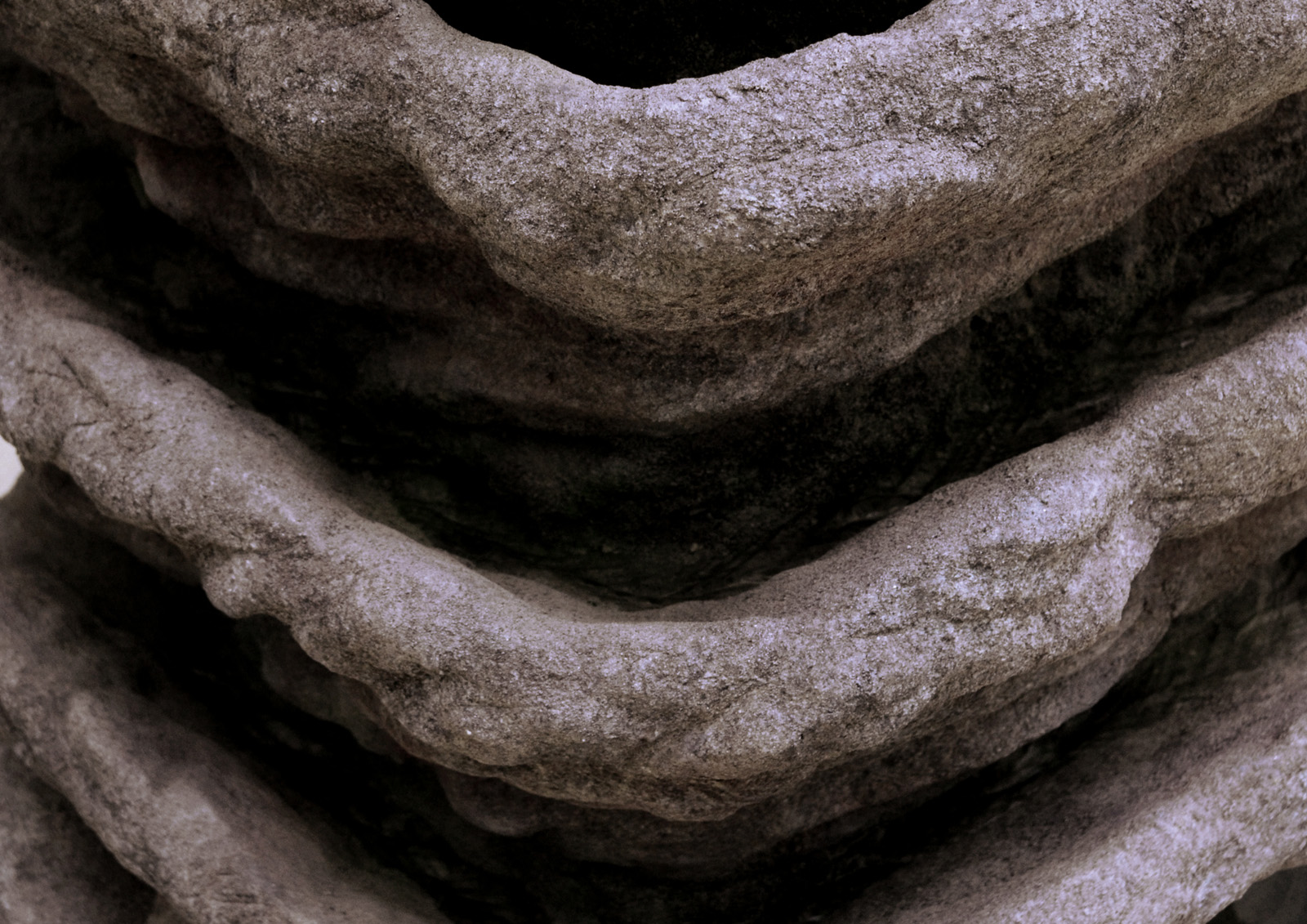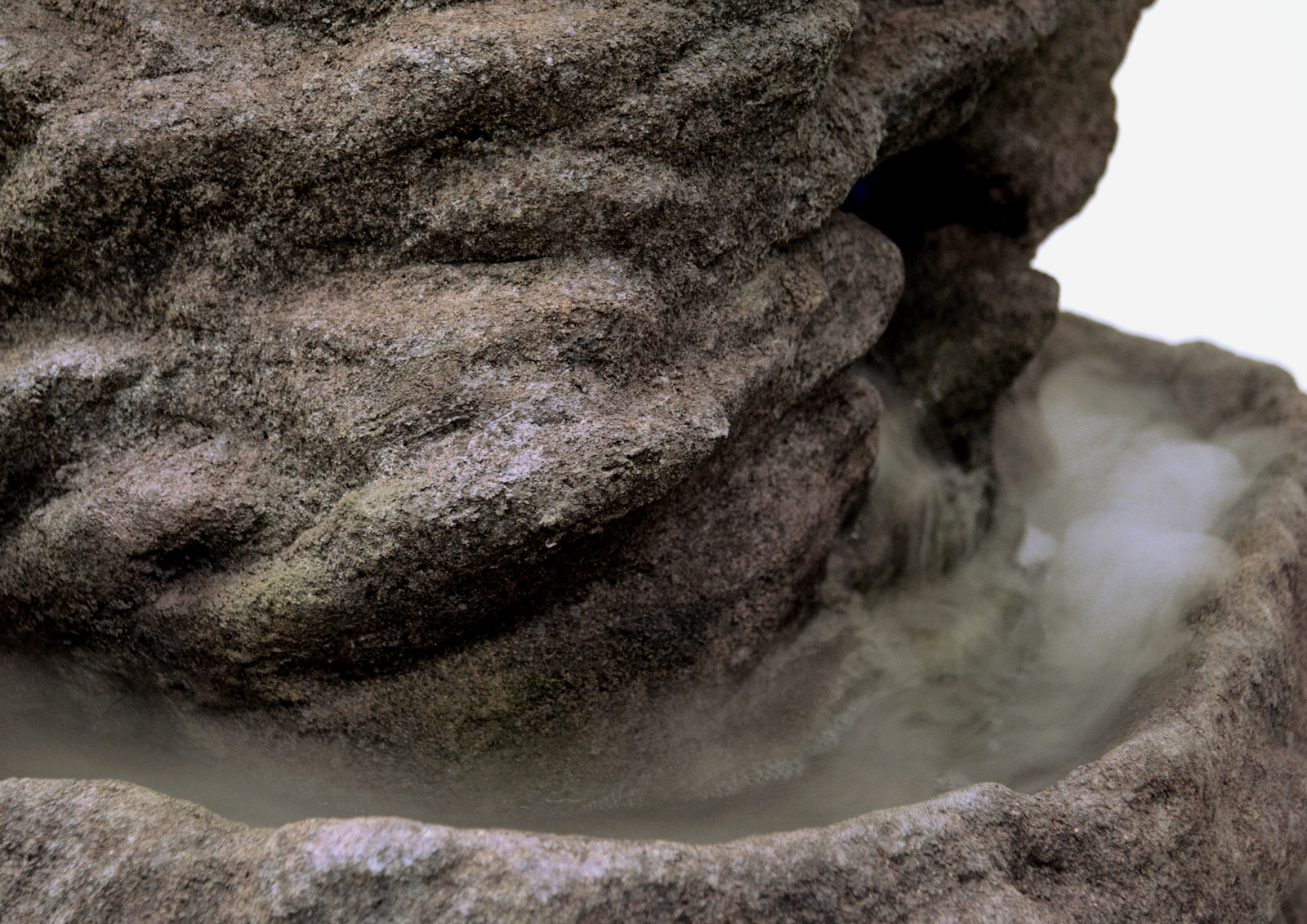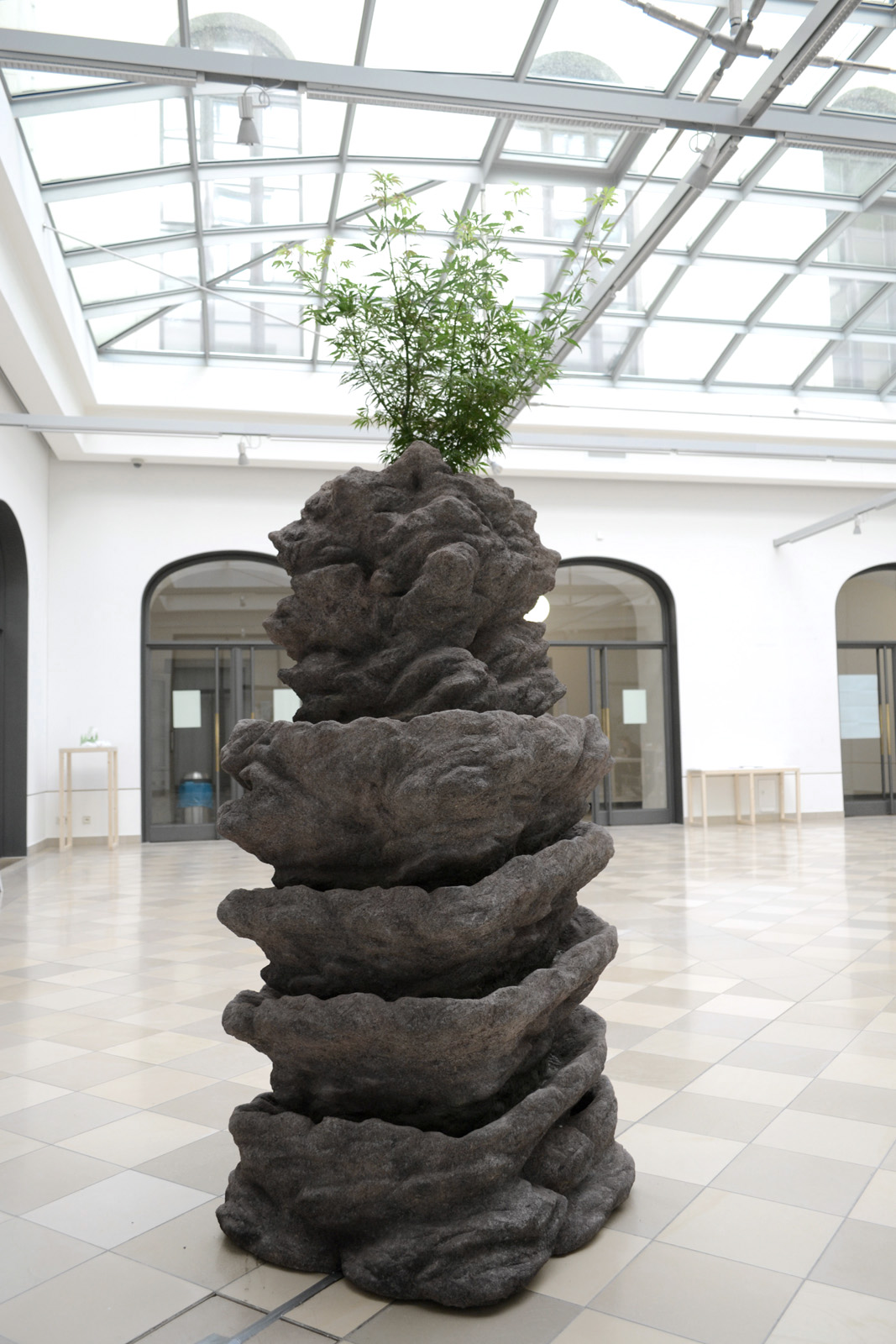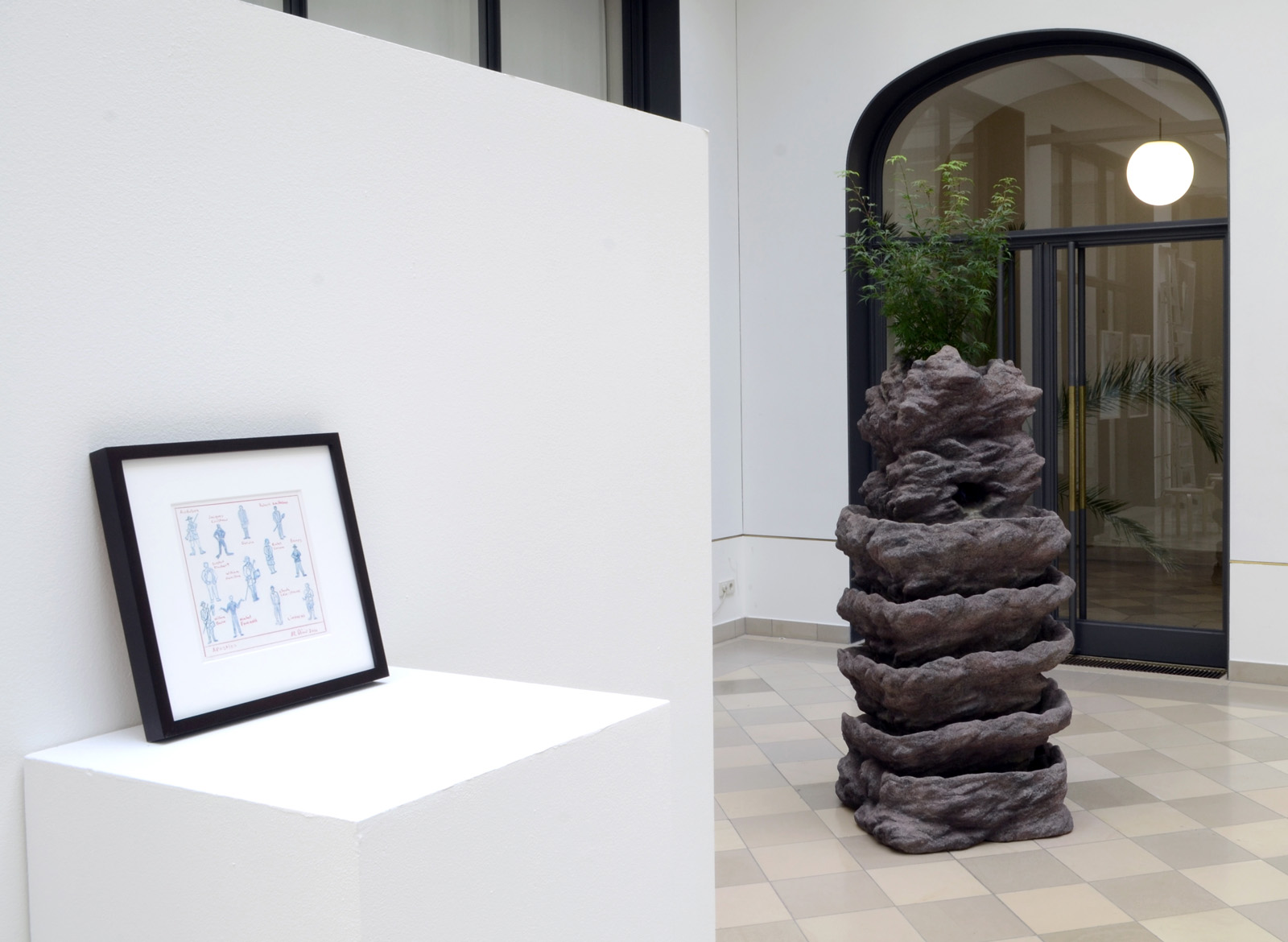 2015,
Styropor, Flexfliesenkleber, Sand, Pigmente, Sprühlack, japanischer Ahorn Acer palmatum "Jerre Schwartz", Erde,
Wasser, Ultraschallnebler, Umwälzpumpe, PVC, Epoxidharz, Silikon, LED,
Maße ca. 75 x 70 x 225 cm
Installationsansichten ENTER the real World, Kleine Humboldt Galerie, Berlin
Refresh
Bei Michel Aniols Intercontinental-Travel-Fountain-Refreshment-Center handelt es sich um einen etwa 2 m hohen, Wasser fördernden Brunnen von mattem, violett-braunem Äußeren, an dessen Spitze eine kleine natürliche Pflanze sitzt. Die Oberfläche der Skulptur ist aufgeraut, ungleichmäßig, voller Einkerbungen und Ausbuchtungen. Ihre Materialität lässt sich visuell schwer erfassen. Es ist nicht zu erkennen, ob es sich um gegossenes, besprühtes Plastik oder bearbeiteten Stein handelt. In der Aufsicht ist Fountain fast quadratisch. Auf der unteren, etwa zwei Drittel einnehmenden, rechteckigen Spiralform, liegt ein schmalerer, felsartiger Block auf. Austretend aus einer kleinen Höhle in diesem oberen Fels fließt kontinuierlich Wasser. Durch die Becken der Spirale läuft es hinab und wird durch das Innere der Skulptur wieder hinaufbefördert. Über dem Wasserlauf strömt feiner Nebel, aus der Höhle tritt ein gedämpftes, farbiges Licht. Auf den ersten Blick erweckt Fountain den Eindruck, er stamme aus dem Gartencenter eines Baumarktes und sei ein industriell gefertigtes Produkt. Doch verbinden sich in dieser installativen, raumbezogenen Arbeit in einer einzigartigen Weise Skulptur und Malerei, technisches Handwerk und Natur. In einem aufwändigen Prozess wurde der Grundbaustein des Fountain aus Styropor geschnitten und mit einer Mischung aus Fliesenkleber und Sand so lange in Form gebracht, bis die nun vorliegende, raue, steinartige Oberfläche in Erscheinung tritt. Das steinerne Aussehen der entstandenen Skulptur wird überdies verstärkt durch den Einsatz von Pigmenten, die in einem malerischen Prozess aufgetragen und mit Sprühlack fixiert wurden. Fountain ist mit einem komplexen, im Inneren verborgenen Pumpsystem ausgestattet – von Aniol entwickelt und sorgsam mit Epoxidharz und Silikon abgedicht. Der Wasserkreislauf ist fragil, anfällig für Störungen und muss auf die Verhältnisse des Raumes abgestimmt werden. Das Wasser verdunstet, verstärkt durch die Nebel erzeugende Maschine, und muss stets in Bewegung und im Gleichgewicht bleiben. Auch der kleine japanische Ahorn an der Spitze des Brunnens bedarf der sorgsamen Pflege und ausgewogener Lichtverhältnisse. Im fensterlosen White Cube würde die acer palmatum Jerre Schwartz – die auf den ersten Blick gewisse Ähnlichkeiten mit einer Marihuana-Pflanze hat – nicht überleben. Aniols Intercontinental-Travel-Fountain-Refreshment-Center ist Teil eines größeren Projektes, an dem der Künstler seit einiger Zeit arbeitet und das in den kommenden Jahren umgesetzt werden soll. Sie ist das zweite Objekt für den Entwurf einer Occiriental Lounge. Diese Lounge soll an Transitorten, an Flughäfen oder Fernbahnhöfen, installiert werden, um dort An-, Ab- und Durchreisende verschiedenster Kulturen in Empfang zu nehmen und für eine kurze Zeitspanne zu beherbergen. Westliche und östliche Kultur, okzidentale und orientalische Einflüsse fusionieren innerhalb der Lounge in mehreren Objekten. Sie umfasst Mobiliar wie Sitzmöglichkeiten und Teppiche, beinhaltet aber auch eine Bibliothek sowie Skulpturen, Aquarien und Vitrinen. Hinzu kommen Bilder und Bildschirme, mittels derer ein Zusammenführen der Kulturen thematisiert wird. Obgleich die Objekte dieser Occiriental Lounge Kunstwerke sind, sollen sie durch ihre Installation im halböffentlichen Raum der Transitorte dem sonst üblichen Ausstellungskontext enthoben werden und in einen außergewöhnlichen Funktionszusammenhang eingehen. Sie sind dann gleichermaßen Gegenstände des Gebrauchs, Objekte der Kunst sowie Mittel einer interkulturellen Verständigung. Im Rahmen von ENTER the real world nimmt der Ausstellungsgegenstand des Intercontinental-Travel-Fountain-Refreshment-Center verschiedene Rollen ein. Zum einen ist Fountain eine für sich selbst stehende, ortsspezifische künstlerische Arbeit. Zum anderen nimmt es in seiner Funktion als Gebrauchsgegenstand Bezug auf das kuratorische Konzept der Ausstellung. Fountain erscheint zum Eröffnungstag als eine ironische Bemerkung zum Event der Vernissage – munter plätschert das Wasser vor sich hin, kaum hörbar im Stimmengewirr; feiner Nebel strömt unbeirrt aus. Aus der kleinen Höhle blinkt abwechselnd rotes, blaues Licht, das die Gesichter der Vorübergehenden erhellt.
Text: Rahel Schrohe (aus ENTER the Real World, Katalog zur Ausstellung, Herausgeber Kleine Humboldt Galerie, Berlin)